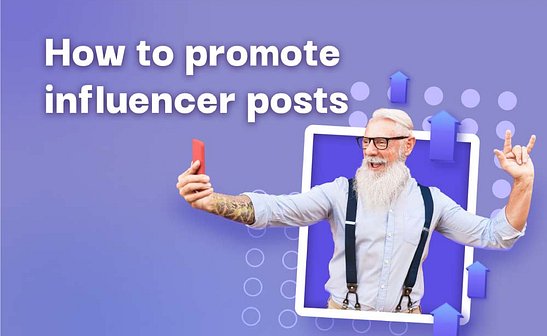 You Might Like These Articles
This post was written as a guest post by Admiral Media
Influencer marketing is all the hype these days, and any good marketer knows that influencer posts are a surefire way to garner organic engagement. In a 2021 study by Oberlo, it was found that 80% of consumers have carried out a purchase after having seen it recommended by an influencer. However, with how widespread influencer marketing is becoming, paid promotion can ensure an even bigger ROI on your influencer marketing. So, we're going to take you through all the nuts and bolts on how best to promote your influencer posts in 2022.
First things first, let's take a look at why you need to promote an influencer post. We've come up with 5 reasons why you should be putting some extra might behind an already winning marketing strategy:
Maximize reach to build brand awareness: We all know that the main benefit of paid promotion is wider reach. Boosting an influencer post through ads allows you to dramatically increase the number of eyes on your post. Branded content takes your post from a highly targeted influencer-led audience and puts it in front of thousands of more consumers and potential customers. With paid promotion, you can also hyper-target the exact people you want to reach with your content, so that the niche your influencer targets for you can be expanded upon organically. This way, you can ensure that you're reaching the right audience.
Increase your conversion rate: While you can guarantee a wide reach from boosted content, you cannot always guarantee conversions. To turn clicks into sales, you need to pair the right content with the right process. Boosted influencer content is the perfect way to get consumers down the sales funnel.
Authenticity: Authenticity is the new black. The modern consumer needs to be able to resonate with and trust your brand. Branded influencer ads provide consumers with that feeling of authenticity they are looking for. They allow you to promote your brand under an influencer's name and handle, rather than your own company's.
Access to data-rich insights: Promoting an influencer collaboration gives you access to data-rich insights, which become accessible to you through Ads Manager. These insights can be recorded and analyzed to measure KPIs, as well as provide data that can inform future campaign strategies.
Higher engagement: In today's over saturated digital marketplace, it is harder than ever to turn traffic into conversions. The truth of it is that while your content might be the best thing since sliced bread, consumers just don't notice ads anymore. The online community now experiences what marketers have dubbed 'Banner Blindness'. This phenomenon literally means that consumers are blind to certain page elements and advertisements on social media.
However, social media users are loyal to the influencers and content creators they follow. Promoting an influencer post means you get all the reach you need, but you also get the engagement. Unlike a regular paid ad, consumers will be eager to engage (like, comment, share etc.) with an ad that showcases an influencer.
Now that we've explained why you need to be promoting influencer posts, let's go through how to do it.
First, let's look at the main players – Facebook and Instagram. So, the process for both of these platforms is pretty much the same, and we've compiled what to do into 5 simple steps:
The first thing you will need to do is to go to your business Facebook or Instagram account and turn on branded content approvals

Once your approvals are on, you'll need to instruct your partnering influencer to tag 'business partner' so that they can promote your post.

Now your influencer will need to click 'allow business partner to promote'

On your business profile, you will then go to 'branded content' and click 'approve account'

Now that's out of the way, you just need to set up an ads campaign as you usually would. Create your ad campaign, set up targeting and access the influencer post by clicking 'Use existing post-select post-branded content'.
And just like that, you've posted your first influencer ad post. It's really that easy!
Rolling out any kind of marketing campaign in 2022 means that you'll almost definitely have to consider one platform, TikTok. With over 1 billion active users, it's impossible to ignore!
On TikTok, authentic and genuine content thrives. People would much rather see unfiltered and relatable content than some glossy branded ad on TikTok. This is where influencers come in. Influencers can help your brand bridge the gap between glossy branded content and raw, engaging videos. So, here's how to do it using TikTok Spark Ads:
When you're creating an ad for TikTok, you have two options. The first option is to reach out to a TikTok creator who has featured your product in their content and turn their organic video into a Spark Ad.
To do this, you'll need to get an authorization code from the owner of the TikTok video. Creators can find this code by navigating to settings and privacy on their accounts and choosing Ad Settings. Once there, they can simply turn on ad authorization, and generate a code.
Your second option is to scout a creator you like through TikTok Creator Marketplace, provide them with a brief on how to promote your product in a video, and boost what they create!
Now you know how to promote an influencer post, what are you waiting for? Build your credibility, engage with your audience and make meaningful content now.
About Admiral Media:
Nominated as Best Mobile App Marketing Agency of the year 2020 at App Promotion Summit Berlin.
Admiral Media is a highly specialized performance marketing & mobile app marketing agency. For more than 10 years we consult mobile publishers and help them to grow their user base. We successfully manage their global performance marketing campaigns across all digital marketing channels. So basically, you can benefit from a holistic and modern marketing approach that fits your needs.
Learn more at https://admiral.media/
Did you Like this Article ? Share It!
How to Promote Influencer Posts