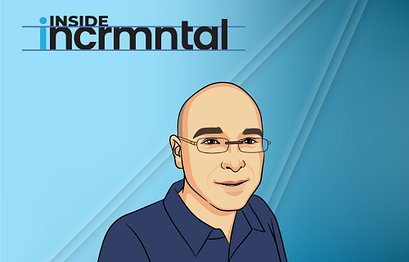 You Might Like These Articles
We would like to introduce some of the great people that are behind INCRMNTAL. So welcome to our newest series:"Inside INCRMNTAL" starting with Guy Ben Shoshan our very own full stack engineer who is in charge of the platform. Guy has been with the team for over one year, making him officially the first employee. Fun fact he wrote the first lines of code for the product, so we thought it was only fitting that our readers get to know him first.
Keep reading to learn more about what it's really like to work at INCRMNTAL and what Guy enjoys most about being part of the company that brings advertisers true value.
Q: Tell us a little about yourself and your journey to your current role.
Guy: I have been a software engineer for over 20 years. I have worked both in larger companies as well as smaller scale-ups and have realized that I mostly enjoy joining early on and being a part of the core team helping the company scale. It's important for me to make an impact and bring value, and it's just not possible in legacy companies when there are so many stakeholders involved and development is so slow or stagnant. Since I started my career, I have seen the whole ecosystem change in particular with major developments in technologies and the responsibilities of the developer. When I started as a software developer, it was very common to have several individuals along the development phase: software engineers, UI, QA, devops, whereas now you are responsible for the whole process - being able to support end-to-end development. In particular at INCRMNTAL, I am responsible for the client dashboard. This is one of the things that excites me most about what I do. I get to take part in the whole process which means that I am able to design, build and optimize every step of the way. It has been amazing to see where we are now, having onboarded many clients in such a short period of time, continuously iterating on the product thanks to the feedbacks we receive from clients.
Q: What is your day to day like?
Guy: I am one of those typical early bird people, more often than not I am the first one in the office and I love the peace and silence that comes with starting my day this way. But apart from that no day is the same. We are in growth mode at the moment, so we are focusing on getting more functionality and better features for our clients weekly. Perhaps it's fair to say that our daily stand up is a repeated ritual. This takes place every morning, and it helps the product and tech team align, but once that meeting is done each day brings its own magic.
Q: Can you share a little bit about your experience before joining INCRMNTAL and how it has prepared you for your role at INCRMNTAL
Guy: Coincidently, I worked with both Moti and Maor over 10 years ago at Inneractive. And although we all went our separate ways, we stayed connected. So, when I heard that they were building something together I jumped on the chance to be a part of it - which is how I landed the coveted position of employee number one. I immediately knew that I wanted to be a part of this venture from the beginning, even though at the time none of us knew quite how challenging it would be to build a company in the midst of a pandemic.
Did you Like this Article ? Share It!
Inside INCRMNTAL:
Meet Guy Ben Shoshan
Full Stack Engineer
After leaving Inneractive I stayed in the adtech space, I personally find it to be quite an interesting industry as it develops so quickly year over year. Over this period, I tried working for larger companies which I quickly realized that it was not the right fit for me. I thrive in an environment where I can create and reiterate quickly, where products are not stalled by stakeholders or processes and where there is room for curiosity. I remember one instance at one of these larger companies where it took over three months to release one version of the product we were working on, whereas at INCRMNTAL (last week alone) we released 5 versions!
Q: What makes you excited about working at INCRMNTAL/ what is the most exciting part about your day?
Guy: This might sound cheesy but it had to be the PEOPLE! We are a small team, with the majority of us are based out of Tel Aviv, and we are very close and supportive of one another. It is a bit difficult to describe but the vibe in the office is great, if you ever need a helping hand there is always someone willing to help.
Q: How would you describe the company culture to someone new?
Guy: I think the best way to describe INCRMNTAL's culture is that it's both approachable and hands-on. As I mentioned before, the team is always willing to help and this creates a great support system. On the other hand, the team is very professional, as well as fun, and they bring this passion into their work - everyone is here to contribute to the success of INCRMNTAL. This combination makes for a great atmosphere, the passion from the team is contagious and it makes you excited to develop and build together.
Q: Many of us are still combining a hybrid working model - do you have any tips for working from home?
I think by this point most of us have found the optimal home office set-up but if you haven't yet I would urge that you ensure to set up a dedicated workspace. Preferably you have a private room or you have some good noise cancelling headphones. Apart from that, I think that the best tip is to keep an open line of communication with your team. It's important that this policy is something that is shared across the company. It clearly outlined, when you can or can not reach someone, what are the best ways to reach them, and informing others of when they will not be in the physical office and what their availability is online. Making this clear at a company-level avoids there being any blockers or pain points along the way.
Q: What do you look forward to when you go to the office?
Guy: Again I would have to say the team. It was great to have the power of technology to be able to see my colleagues over Zoom. However, it's not quite the same as being able to turn your chair and just tap someone on the shoulder to ask a question or invite them for a coffee break. I am happy that we have the hybrid model. This way I get the best of both worlds: my deep work time at home as well as the perks of socialization in the office.
Q: Tell me a little bit about your hobbies or activities that you like to do during work or on the weekend?
Guy: I am a family guy and I really enjoy spending the weekend with my wife and kids. We often go to the beach or go for small excursions. I am also an avid scuba diver and until recently was going almost every week. I have seen so many amazing things in the water but the one of the most memorable and majestic beings are the larger animals like the manta rays, sharks or whales. And lastly, my love for music and vinyals led me to recently pick up the electric guitar.
If you are a data scientist or data engineer, we might have a space for you. Check out our careers page, or just message us at careers@incrmntal.com