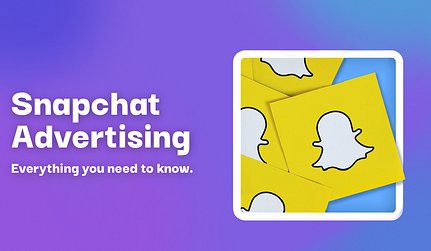 You Might Like These Articles
Snapchat Advertising -

Everything you need to know
Intro to Snapchat
Snapchat, often the forgotten platform in the digital marketing world, might be more valuable than you think. With over 332 million daily users, those claiming that the networking app is dead simply aren't paying attention. You might be thinking these numbers aren't all that impressive when you compare to competitor networking giants like Instagram and Facebook, but Snapchat has some other tricks up its sleeve. Snapchat may not be winning the numbers game, but it is certainly in line for the throne when it comes to conversion. According to Snapchat, the app boasts 12% more conversions than other social networking sites. Let's look at an example:
Redbubble, an online marketplace selling user-owned artwork, experienced a 22% higher swipe up rate on their ads and a 14% ROAS with Snapchat ads. But what exactly is it that worked for Redbubble? Well, we can attribute a few things to Redbubble's success on Snapchat advertising, but there are two overriding factors at play. The first is creative variety. On Snapchat, Redbubble was able to showcase a wide variety of creatives in the ephemeral format that Snapchat follows. This works particularly well with Snapchat's predominantly Gen Z audience. The second is Snapchat's precision audience targeting and optimization tools. Redbubble was able to use Snapchat's lifestyle categories to find the right audiences. Lifestyle groups that targeted cohorts such as pet lovers and travel fanatics could all be utilized to match the audience with the product. This success could easily be replicated for many brand types, through group targeting like this! Let's take a deeper look into the audiences and targeting available on Snapchat, if we haven't fully convinced you yet.
Audience and targeting availability
Snapchat's robust targeting technology goes beyond the standard targeted capabilities of its competitors. Beyond location, interests, devices, and location targeting, Snapchat allows you to easily create custom audiences. You can do this through four different types of customization:
Snap Audience Match: With audience matching, you can upload an audience list (customers, app/service users) and target the chosen audience on Snapchat.

Lookalike Audiences: Lookalike audiences allow you to target users similar to those already on your audience list.

Mobile App Custom Audiences: This allows you to target users who have previously engaged with your app.

Pixel Custom Audiences: This allows you to target users who have previously engaged with your website
Once you have customized your ad, you can choose between two advertising flows within Snapchat Ads Manager.
Instant Create: Instant Create is an automotive process that allows you to build an ad in less than 5 minutes.

Advanced Create: Advanced Create allows you to create multiple ad sets with more advanced targeting and bidding capabilities. When you combine Advanced Create with Snap Pixel, you can measure the impact of your campaigns to inform how you should optimize your ads.
After you've chosen your audience targeting, it's time to measure, optimize, and re-engage. Snapchat allows you to do this through:
Measuring Conversion Events Across Devices: Snap Pixel collects and stores data. With Snap Pixel, you can track campaign goals across multiple sessions, or devices.

Optimizing for Conversion Events: Snap Pixel tracks conversion events such as online purchases and optimizes your campaign based on the event.

Re-engaging Snapchat Users: Users who have previously engaged with your app can be retargeted and re-engaged.
Differences between Snapchat and TikTok & Meta
So, we know now that Snapchat's worth its salt in the advertising game, but how do you know if it's the platform for your brand. Let's take a whistle-stop tour of the major players to see which one suits you.
Meta has a huge global audience, and Instagram is ideal if your brand lends itself to both video and static content. Facebook and Instagram also host a wide range of brand marketing and e-commerce capabilities that automate and simplify processes.
If you're looking to generate brand recognition among Gen Z, Snapchat is a great place to start, as many of them consider the app to be their favorite social media platform.
With TikTok, you're presented with the chance of virality. It also allows you to form relationships with an engaged audience since it focuses on honest and entertaining video content. It's also a good place to experiment with less filtered material.
Top 10 tactics to succeed
Snapchat is a great place to promote your business, but the platform can be tricky to navigate. Let's boil everything down into 10 tips for making sure you're getting the most out of advertising on Snapchat:
Use video ads – Video content performs better than other types of posts on Snapchat, so make sure your videos are crisp and engaging.

Keep it short and sweet (and vertical) – Your viewers will only have 10 seconds before they lose interest, so be concise when explaining what your product or service does. Avoid using text in these ads; instead, use images with captions or voice-overs to tell the story effectively while keeping it visually appealing. Vertical videos are also essential since they take up more space than horizontal ones do – making them appear more immersive and taking advantage of that valuable real estate within Snapchat's ad unit itself!

Personalize every post – Do this with data-driven targeting options such as geo-targeting (using GPS coordinates), age range/demographic targeting (such as Millennials or Gen Xers) plus lifestyle categories like homeownership statuses which can help reach specific groups based on their interests rather than just location alone.

Use audience insights – Snapchat Ad Manager provides you with access to audience insights. These insights can inform any changes you need to make to your campaign, while also identifying which areas of your campaign are working.

Be creative – The fleeting nature of the app means you need to stand out. Generate unique and eye-catching content that resonates with users.

Run tests – To see which creatives/copy are most effective, use this knowledge to optimize future campaigns.

Use the right link – Your ad is only a stepping stone to another desired location (landing page). Once you have your audience's attention, it's time to point them in the direction of your desired location. On Snapchat ads, there are three kinds of link types: Web View Attachments, App Install Attachments, and Deep Link Attachments.

Use Polls – Polls are massively popular when it comes to advertising on Instagram. A study by Instagram found that polls in Instagram story ads increased the number of three-second video views in 90% of campaigns. But can this level of success be replicated on Snapchat? Well, given Snapchat's user-friendly and conversational atmosphere, it should be a winning formula. By using polls, you're also given access to rich user insights that can be used to strengthen your ads over time.

Use Sound – 70% of Snapchat ads are listened to with the sound on. Use audio that helps build brand identity or helps users recognize your brand.

Make your ads feel organic – Create ads that feel less intrusive, and more welcoming to Snapchat users, so they are more likely to engage.
This is a guest post by Admiral Media, a highly specialized performance marketing & mobile app marketing agency on channels such as TikTok, Facebook, Google, Snapchat and more. For more than 10 years, Admiral has been consulting mobile brands and helping them to grow their user base.
Visit the Admiral Media blog for more performance marketing insights.
Guest post by Admiral Media
Did you Like this Article ? Share It!