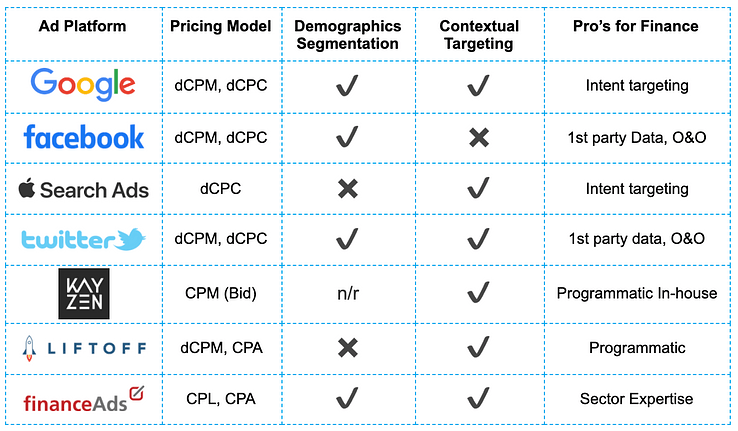 You Might Like These Articles
INCRMNTAL provides an incrementality measurement platform for Advertisers to unlock the true value of their marketing spend. The platform uses campaign data to output actionable insights for optimization so that Advertisers get the full value of their spend.

If you want to learn more, visit INCRMNTAL or book a demo today!
The Best Ad Networks for Finance Apps
The Top User Acquisition Platforms for 2021
There are practically hundreds of ad networks pitching FinTech and Finance companies on a daily basis. Many of the ad networks and media platforms have the same pitch: Direct access to inventory, SDK penetration, exclusive placements, state of the art optimization algorithms, and transparent reporting capabilities.
Financial Apps seek very specific audiences. Whether the product is an eWallet, a Digital Bank, or a Trading Platform allowing users to trade in stock or crypto currencies - Financial Advertisers usually cannot afford advertising to everyone hoping for the few who convert to engage.
Contextual Data and Demographics data are key for ad networks providing value to Financial Advertisers.
We chose the list below as these are ad networks with the capability to segment and target audiences based on their interest, demographics, and contextual data.
INCRMNTAL is not affiliated with any of these ad networks. We do not buy media or receive any monetary incentives from ad networks. Our business and pricing model is not affected by a marketers choice of ad network or by spend.
Best Ad Networks for Finance and FinTech Apps
Did you Like this Article ? Share It!